Ad Extensions expand the base advert and give the searcher more options to interact with you.
They also take up more space on the page, improve expected CTR, and look great!
Call extensions
Allow people to phone you by clicking on the call button.

---
Consumer rating's annotations
These extensions can help improve branding and conversion rates.

---
Location Extensions
Show local searchers that you have an offline presence nearby. For advertisers with multiple physical locations, these extensions help them find the destination closest to them.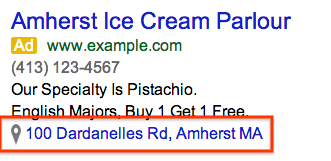 ---
Previous visit annotations
Let searchers see if they've clicked through to your website from Google Search before.

---
Review extensions
Showcase positive, third-party reviews from reputable sources. Google crawl the web for reviews from numerous third-party providers- and automatically include these below the base advert. The reviews will stop showing if review ratings goes below 3.5 out of 5(after the next crawl!)

---
Seller rating annotations
Show your online business ratings with your ad. These have to be very precise or verbatim when possible to be approved.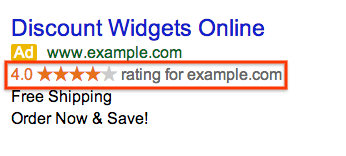 ---
Sitelinks extensions
Sitelinks helps people navigate to the most appropriate landing page. Useful on more generic keywords- where categories help suggest search refinement.

---
Social annotations
Show how many Google+ followers the advertiser has.

---
App extensions
Show a link below your ad text that sends people to the app store or begins downloading your app.