In today's busy marketplace, there's no escaping the need for your business to implement a strong social media marketing strategy. With over one billion active users on the platform, Facebook is undoubtedly the number one source for connecting with your audience in an engaging manner that can bring leads and converted sales. However, in this data-dominated era, it's imperative that you use all available information to make calculated measures, which is why embracing Facebook Analytics is key. 
It can be a daunting and alien concept to understand, particularly if you're not a social media marketing expert. Nevertheless, using Facebook Analytics in a positive manner will enable you to unlock far greater results leading to quicker growth, greater engagement, and increased turnover. If that doesn't encourage you to make this a significant part of your marketing strategy, nothing will.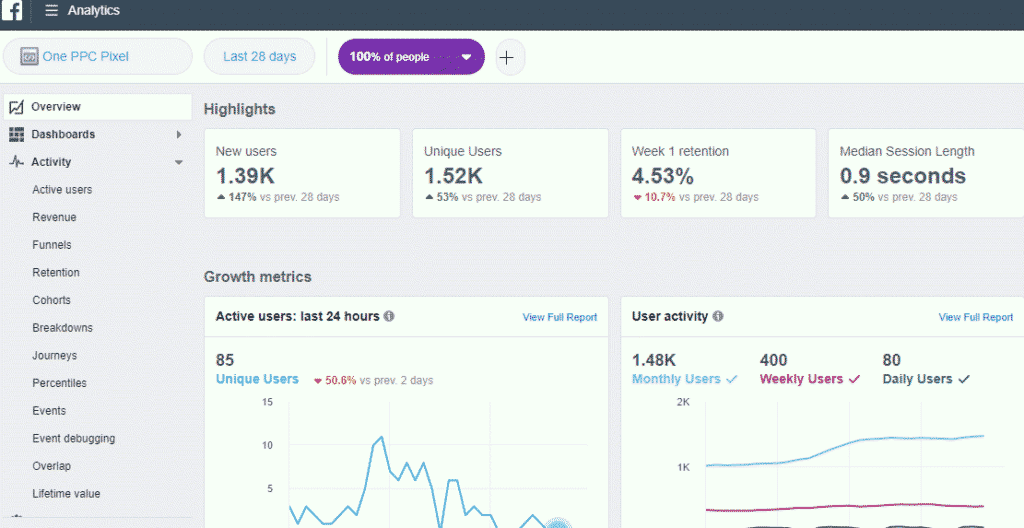 What Is Facebook Analytics?
Launched in May 2018, Facebook Analytics is an analytics tool that is designed to provide in-depth insight into every aspect of the customer journey across multiple online channels, enabling you to understand more about the business and its audience in order to make calculated decisions. 
There are many analytical tools and Apps on the market, but Facebook Analytics is a resource that's built around the data gained from its users. Given how much information the social media platform holds on record – from background details to interaction with your social pages and even their consumer habits – the value of this information can be telling. 
Analytics is able to do this through the cookies and data that is recorded when its users are signed into the website or App. This follows them on the journey once they leave Facebook, which includes the interactions that they have with your company website. 
Tracking how users interact with your brand on Facebook, your website, and other Apps can provide many benefits. Some of the key ways to enhance your business through the insight tool include:
Discovering new ad audiences with insights;

Discovering how to reach more loyal customers;

Boosting return on ad spend;

Optimising conversion in new markets;

Filtering audiences to create targeted marketing;

Improving acquisition by finding audience drop-off;

Identify behaviours that drive retention;

Optimising ad performance with segments and funnels.
All of the above are rewards gained by real case studies of companies that started using the Facebook Analytics tool. Quantifiable results include increased reach and audience numbers, better ad buying rates, improved conversions, and growth in secondary demographic. Essentially, the insights gained through the platform will spearhead improvements in your marketing strategy for serious gains and sustained success.
So What Are The Key Features Of Facebook Analytics
Facebook Analytics is able to support your business growth by collating the data gained across multiple channels, including your website as well as the social media channel. 
Analytics includes several important tools that can be used to great effect, including each of the following items:  
Funnels – Track progress to conversion across several funnels (Facebook page, your own website, mobile v desktop, etc) to see where the current endeavours are succeeding and failing.  
Retention – Monitor client retention across multiple campaigns and sources to see where clients are being lost.  
Lifetime Value – Track spending patterns among different audiences to see which demographics are worth pursuing for sustained profits for long-term triumphs. 
Journeys – Gain understanding into the steps that consumers take while interacting with your brand up to (and beyond) the point of conversion. 
Demographics – Discover exactly which type of people (age, location, gender, likes) are visiting your website and social media feeds before buying your products and services. 
Segments – Learn how different groups behave by separating them into varying demographics and audience types.  
Overlap – Discover how many people are commenting on your Facebook page while also visiting the website to understand the multi-channel success of your business. 
Cohorts – Track the activity of users to see how many are conducting certain activities such as completing registrations and following other CTAs. 
There are plenty of other tools that can be used within analytics to help you make informed decisions about the next steps to take with ad campaigns, social media posting, audience targetting and other aspects of the strategy while automated insights can also be used to analyse the data on your behalf. When done well, this can completely transform the success of the venture.
Sounds Great, How Do I Get Started?
In truth, once the Facebook Analytics tool is live and configured to your needs, actually managing the page and understanding the data is relatively straight forward. However, the hardest challenge is setting it up in the first place. 
You'll need a working understanding of Facebook Business Manager. Navigate to the Analytics tool within the Measure & Report tab. From here, you should follow the subsequent steps:
Click the 'Create an Event Source Group;

Select which items are to be added to the ESG, ticking the appropriate boxes;

Find the right App you want to add;

Choose the appropriate Facebook Pixel;

Add the Facebook Page to be monitored in the ESG;

Confirm the details. 
Once you've completed this, you'll be taken to the dashboard.
Managing Your Business Through Analytics
After signing into Facebook Analytics, you will be taken to a dashboard. While it is possible to play around with the layout, there are a number of key features to look at. Growth, Engagement, Monetisation, People, and the Daily Insights elements are the most significant.
At the top of the age, you'll see a number of features including New Users, Unique Users, and Retention rates This gives a brief insight, but it's the other elements that truly matter. 
The Growth Metrics tab shows the number of active users, including a separate figure for unique users. Meanwhile, the User Activity tab shows daily, weekly, and monthly figures. This data paints a clear picture as to whether the channels are growing or declining. While the results are generic rather than looking at individual elements, the insight gives you a perfect foundation to build upon. 
The Funnels page is found under the Activity tab on the left-hand menu. From here you can set up a Funnel that monitors the journey taken by users. 
There are many different funnels that can be set up, but one popular option is to take a simple three-step funnel that looks at Post Comment → Page Views → Purchase. Monitoring whether there is a transition from post comments to page views and purchases can tell you whether to focus on content that gains engagements. 
Other funnels can look at relationships such as watching videos → purchases or entering competitions → purchases. The data regarding customer journeys will allow you to adjust your strategies accordingly. 
The Revenue Report page is also found under the Activity tab. Once set up, it is very easy to use. Simply set the date range and look at the various graphs to show revenue rates across different age groups, gender, and other demographics. 
This shows the percentage of sales to come from each audience, instantly  highlighting your primary and secondary key target markets. However, it's equally important to look at the Customer Lifetime Value metric, which allows you to see how much money users are spending. 
You can set this up to include all users or only the paying individuals. Either way, understanding the long-term consumer habits and the CLV provide far more accurate findings. 
Analytics can provide a lot of information about customers as they are all Facebook customers themselves. Whether looking at the Active Users, Overlaps, Journeys, or Percentiles doesn't matter. Grouping your audience is vital. 
When you do this in an effective manner, you don't simply understand your primary and secondary audiences. You also get to rule out the data from demographics that don't contribute to your revenue.  As long as you use the full metrics available on the platform, this can lead to some truly incredible results. 
Finally, the daily Insights tab can provide ongoing insights that let you know if anything needs immediate action. Moreover, it's a great way to test new ideas out. If the strategies show negative results in the daily insights, you may want to abandon ideas in favor of something known to work.
By now, you can probably see that the benefits of using Facebook Analytics are plentiful. Nonetheless, there is a lot of work to consider and taking on the challenge yourself poses two main threats. Firstly, it's very time-consuming and could distract you from your main job. Secondly, there's a strong chance that you won't use it quite as effectively as a marketing experts. 
The obvious solution for anyone feeling a little overwhelmed is to get in touch with One PPC today. We can incorporate Analytics into social media management, which in itself can be its own thing or part of a wider marketing strategy. Give us a call to learn more today, you'll be amazed at how quickly the results start to shine through.